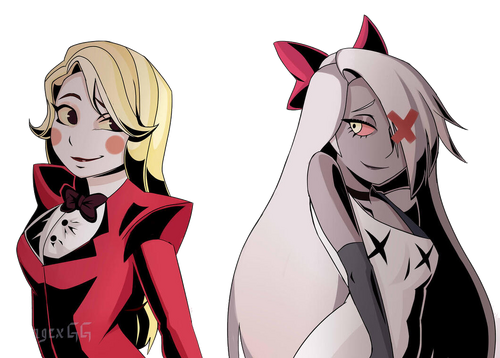 Kanashimi (カナシミ, Kanashimi) is a kunoichi and a member of Kirigakure's nearly extinct Kaguya Clan before it's downfall, She was born after the Third Shinobi World War leading to her parents to migrate to Akuzura Empire where left Kanashimi to grow up and become a skilled shinobi who inherited Shibuki from her parent who left it for her as a gift. Throughout her years as a mercenary and blacksmith she was recognized as fierce kunoichi who joined the Supreme Knights.
Backstory
Personality
Appearance
Kanashimi is a pale skin ill looking, very well built woman with short shaggy curl platinum silver hair that reach to her shoulders and nape, possessing heterochromia in both eyes with her left eye intense ember orange and the other soothing forest green that glows a soften aura and her eyebrows were cut very short as a symbol of nobility but she disregard this, she has a delicate facial feature that look ill looking but has been complemented by her beauty by a critique in the Akuzura Empire wearing cross lace short sleeve bandage T-Shirt revealing much of her medium bust and stomach that reveals numerous scars from past experiments done to her also styling a Black Saia Pencil Skirt with Wooden Sandals. Kanashimi wears the same style of clothing noted that she have a closet full of the matching style clothing minus a cheongsam with gold and red, Velvet Flats she wears in meetings or rare dates.
Abilities
Stats
Community content is available under
CC-BY-SA
unless otherwise noted.