"The village isn't all they left us. We're still here."


This article, Kintaro Uchiha, is currently under active construction by the author(s) of whom this article's property falls under.
"ATTENTION INFERIOR LIFEFORMS!"


This article, Kintaro Uchiha, is property of the ArtistOfTheDaleks. Disturb my empire without permission and you shall be Exterminated!
"Surely he recognizes deceivers; and when he sees evil, does he not take note?"
— Job 11:11
"Nozomi... Sakiko... you may want to leave the vicinity with the others... because i'm going to fuck this son of a bitch up and put him in his grave and i don't want you to get hurt because of me."
— Kintaro Uchiha
Kintaro Uchiha

Part I

-

Part II

-

Part-III

Voice Actor
Japanese: Yō Tokinaga
English: Yuri Lowenthal
Name
Kintaro Uchiha
Kanji
うちはキンタロ
Romanji
Uchiha Kintaro
Alias
Crimson Eyed Phoenix
Sharingan Emperor
Prince of the Rinnegan
Fourth Six Paths

Personal Status

Birthdate
November 11
Age
Part I: 12-13
Part II: 15-16
Part III: 17-31
Status
Alive
Gender
18px Male
Height
Part I: 151.9 cm
Part II: 173.5 cm
Part III: 180.1 cm
Weight
Part I: 42.6 kg
Part II: 53.1 kg
Part III: 55.3 kg
Blood Type
AB-

Relationships

Clan
Uchiha Clan
Uzumaki Clan
Family
Katsu Uchiha (Father)
Kokoro Uzumaki (Mother)
Nozomi Uchiha (Twin Sister)
Takahiro Uchiha (Uncle)
Sakiko Uchiha (Wife)
Yui Uchiha (Sister In-Law)
Kaede Uchiha (Daughter)
Aoki Uchiha (Son)
Izuna Uchiha (3rd Great Grandfather)
Madara Uchiha (4th Great Uncle)
Kaiya Uzumaki (Cousin)
Kana Uzumaki (Aunt)
Kushina Uzumaki (Half Aunt)
Karin's Mother (Half Aunt)
Naruto Uzumaki (Half Cousin)
Karin (Half Cousin)
Indra Ōtsutsuki (Direct Ancestor)
Asura Ōtsutsuki (Direct Ancestor)
Hagoromo Ōtsutsuki (Direct Ancestor)
Akatsuki Uchiha (Great Grandson) Tenshi Uchiha (Grandson)
Occupation
ANBU Captain
Affiliation
Konohagakure
Ryūko Village
Aokigahara Rainforest
Children of the Phoenix
Team
Team Kamikaze
Unit One

Classifications

Rank
Part I: Genin
Part II: Chūnin
Part III: Shugokage
Classification
Sage
Jinchūriki
Forgotten-nin
Sensor Type
Arhat
Ninja Registration
012350
Academy Prom. Age
7
Chūnin Prom. Age
14
Jōnin Prom. Age
17

Skills

Kekkei Genkai
Sharingan
Mangekyō Sharingan
Rinnegan
18px Ice Release
Kekkei Mōra
Truth-Seeking Ball
Hiden
Sharingan: Psychokinesis
Sharingan: Apportation
Spirit Hand
Mysterious Peacock Method
Enigmatic Stardust Method
Way of Dharma Transmigration
Tailed Beast
Suzaku
Unique Traits
Enhanced Healing Factor
Immunity to Most Illness and Poisons
Enhanced Vitality
Can Absorb Chakra
Enhanced Awareness
Enhanced Reflexes
Semi-Retroactive Immortal
Naturally Produces Star Chakra
Nature Type
Fire Release
Lightning Release
Wind Release
Water Release
Earth Release
18px Ice Release
Yin Release
Yang Release
Yin-Yang Release
Jutsu
Sage Mode (Phoenix)
Six Paths Sage Mode
Six Paths Senjutsu
Body Flicker Technique
Body Flicker: Instant Projectile
Spirit Hand
Satsuei
Shirizokeru
Shōgekiha
Incantation
Summoning: Sword of the Fire God
Samurai Sabre Technique
Sword Art: Sever
Bisection
Flash
Rupture
Chakra Shockwave Slash
Poison Mist
Poison Seal
Sage Art: Poison Seal
Assassination Technique
Chakra Enhanced Durability
Assassination: Swift Death
Transformation Technique
Chakra Enhanced Physique
Chakra Enhanced Strength
Chakra Enhanced Speed
Chakra Propulsion Technique
Tool Creation Technique
Hiding in Shadow Technique
Mind's Eye of the Kagura
Phantom Sensing
Adamantine Sealing Chains
Adamantine Attacking Chains
Adamantine Absorbing Chains
Adamantine Chainmail Armor
Adamantine Chakra Constructs
Beast Sealing Technique
Mysterious Peacock Method
Mysterious Peacock Chakra Mode
Star Chakra Mode
Enigmatic Stardust Method
Body Replacement Technique
Chakra Gun Technique
Finger Cannon
Chakra Cannon
Sabotage Technique
Chakra Disruption Technique
Sage Art: Gate of the Great God
Iaidō
Interval
Yōkai
Yōkai: Ikiryō
Yōkai: Amenotorii
Sexy Technique
Harem Technique
Sexy: Girl on Girl Technique
Sexy Technique: Innocent School Babe
One Thousand Years of Death
Fart
Flying Thunder God Technique
Flying Thunder God — Second Step
Flying Thunder God Slash
Flying Thunder God: Guiding Thunder
Flying Thunder God: Omnipotence
Spiralling Flash Super Round Dance Howl Style Three
Chakra Levitation Technique
Chakra Wing Technique
Chakra Exertion Technique
Yin Release Chakra Arms
Yin Scalpel
Regeneration Ability
Yin Healing Wound Destruction
Chakra Transfer Technique
Barrier Shatter Technique
Scattering Thousand Parrots Technique
Phoenix Rebirth
Phoenix Renewal
Negative Emotions Sensing
Shadow Clone Technique
Multiple Shadow Clone Technique
Shuriken Shadow Clone Technique
Shuriken Shadow Clone Flicker Technique
Mystical Palm Technique
Gunbai Barrier Technique
Afterimage Clone
Yōkai: Multidimensional Afterimage Clone
Coercion Sharingan
Genjutsu: Sharingan
Sharingan: Acid Trip
Sharingan: Paralysis
Sharingan: Eye of Truth
Sharingan: Bearer's Sight
Sharingan: Negative Confusion
False Tsukuyomi
Sharingan: Ultimate Defense
Sharingan: Apportation
Sharingan: Psychokinesis<brSharingan: Eye of Eros
Mangekyō Sharingan: Analysis
Sage Art: Rising Sun Heavenly Judgement
Sage Art: Fallen Angel Meteor Shower
Transcription Seal: Izanagi
Transcription Seal: Amaterasu
Transcription Seal: Blaze Release
Creation of All Things
Izanagi
Izanami
Unmei
Inka
Silent Killing
Silent Waltz
Flying Swallow
Chakra Scalpel
Twelve Zodiac Shrine Seal
Killing Intent
Peaceful Intent
Eight Trigrams Sealing Style
Four Symbols Seal
Torii Seal
Hanabatake
Demonic Illusion Form
Demonic Illusion: Bloody Dream
Demonic Illusion: Mirror Heaven and Earth Change
Demonic Illusion: Mirror Heaven and Earth Transfer
Demonic Illusion: Mirror Heaven and Earth Shatter
Demonic Illusion: Shackling Stakes Technique
Demonic Illusion: Sexy Technique
Demonic Illusion: Mirage Parrot
Phoenix Chakra Mode
Chakra Threads
Repulsion Technique
Vector Technique
Flight Technique
Ephemeral
Susanoo: Rasengan
Susanoo: Spiralling Ring
Susanoo: Great Spiralling Ring
Rasengan
Spiralling Ring
Great Spiralling Ring
Deep Crimson Spiral
Susanoo: Tsukumo
Yasaka Magatama
Tailed Beast Chakra Arms
Tailed Beast Shockwave
Tailed Beast Telepathy
Tailed Beast Ball
Tailed Beast Rasengan
Tailed Beast Tsukumo
Tailed Beast Yasaka Magatama
Tailed Beast Spiralling Ring
Tailed Beast Great Spiralling Ring
Continuous Tailed Beast Balls
Tailed Beast State
Tailed Beast State: Susanoo
Evil Disturbance Waltz
Tailed Beast Arsenal
Summoning Technique (Parrot, Phoenix)
Manipulating Windmill Triple Blades
Manipulated Shuriken Technique
Shadow Shuriken Technique
Summoning: Lightning Flash Blade Creation
Manipulating Attack Blades
Susanoo
Six Paths Susanoo
Susanoo Chakra Mode
Susanoo Enhanced Strength
Weather Manipulation
Tenpenchii
Sage Art: Embodiment of Nature
Sage Art: Yin Release Lightning Dispatch
Remote Chakra Manifestation Technique
Chakra Personification Technique
Railgun Technique
Chakra Needle
Amenotejikan
Temporal Bubble
Temporal Restoration
Temporal Devastation
Temporal Disruption
Temporal Divination
Temporal Slash
Temporal Lock
Temporal Acceleration
Temporal Shift
Amenotenkyo
Amenomyōbatsu
Amenokōshin
Amenoshukutō
Amenotejikara
Amenokainyū
Limbo: Border Jail
Sage Art: Thunder Cage Border Jail
Genjutsu: Rinnegan
Six Paths Technique
Black Receiver
Six Red Yang Formation
Deva Path
Asura Path
Human Path
Animal Path
Preta Path
Naraka Path
Outer Path
Inner Path
Way of Dharma Transmigration
Demonic Statue Chains
Summoning Rinnegan
Summoning Rinnegan: Edict of Otherworldly Revelation
Chibaku Tensei
Chibaku Tensei: Heavenly Fall
Tailed Beast Chibaku Tensei
Chibaku Tensei: Stellar Origin
True: Chibaku Tensei
Shinra Tensei
Banshō Ten'in
Zen'nō Shūryō
Banshō Kokuin
Shinra Tensei: Seiatsu
Banshō Ten'in: Dōmetsu
Asura Attack
Tengai Shinsei
Tengai Shinsei: Pierce
Blocking Technique Absorption Seal
Flaming Arrow of Amazing Ability
Absorption Soul Technique
Six Paths of Pain
Outer Path — Samsara of Heavenly Life Technique
Transcription Seal: Samsara of Heavenly Life Technique
Six Paths Yin Power
Six Paths Yang Power
Six Paths — Chibaku Tensei
Amaterasu
Blaze Release: Kagutsuchi
Blaze Release: Susanoo Kagutsuchi
Blaze Release: Imperial Rapid Fire
Blaze Release: Solar Storm Annihilation
Sage Art: Blaze Release: Solar Storm Complete Annihilation
Sage Art: Blaze Release: Solar Storm Flare Technique
Sage Art: Blaze Release: Fallen Angel Illumination
Blaze Release: Archangel Flash
Blaze Release: Archangel Rupture
Blaze Release: Yasaka Magatama
Blaze Release: Solar Remnant Spiralling Ring
Blaze Release: Solar Remnant Great Spiralling Ring
Blaze Release: Senjōgahara
Blaze Release: All Consuming Hell
Blaze Release: Shielding Fire
Blaze Release: Firebolt Technique
Blaze Release: Sniper Bullets
Blaze Release: Flash Fire
Blaze Release: Flames of Intuition
Amaterasu Chakra Mode
Amaterasu: Flame Wrapping Fire
Amaterasu: Gauntlet of Fire
Blaze Release: Kagutsuchi — Porcupine
Blaze Release: Kagutsuchi — Flying Flame
Blaze Release: Imperial Spiral Vortex Flame
Blaze Release: Honoikazuchi
Blaze Release: Rasengan
Blaze Release: Ghost Flame
Blaze Release: Devil Lantern
Blaze Release: Flashpoint Incineration
Blaze Release: Great Fireball Technique
Blaze Release: Imperial Great Flame Flower
Blaze Release: Imperial Great Fire Annihilation
Blaze Release: Imperial Great Fire Destruction
Blaze Release: Imperial Blast Wave Wild Dance
Blaze Release: Protecting Black Flame Sphere
Blaze Release: Phoenix Sage Dark Flower
Blaze Release: Phoenix Sage Dark Flower Nail Black
Blaze Release: Tsukumo
Blaze Release: Black Flame Senbon
Blaze Release: Black Flame Shuriken
Blaze Release: Arrow of God
Blaze Release: Arrows
Blaze Release: Wildfire
Blaze Release: Imperial Flame Whirlwind
Blaze Release: Shadow Angel Halo Waltz
Blaze Release: Imperial Flight of the Phoenix
Blaze Release: Imperial Phoenix Flock
Blaze Release: Chakra Flow
Chibaku Tensei: Dark Star
Zephyr and Blaze Release Cooperation: Imperial Dancing Flight of the Phoenix and Dragon
Dark Caged Heat Arson Prison
Onyx Flame
Caged Heat Arson Prison
Crimson Flame
Star Pearl Technique
Fire Release Chakra Mode
Susanoo: Great Fireball Technique
Fire Release: Great Fireball Technique
Fire Release: Great Flame Flower
Fire Release: Great Fire Annihilation
Fire Release: Great Fire Destruction
Fire Release: Flight of the Phoenix
Fire Release: Phoenix Flock
Wind and Fire Release Cooperation: Dancing Flight of the Phoenix and Dragon
Fire Release: Rapid Fire
Fire Release: Fire Dragon Flame Bullet
Fire Release: Great Flame Rasengan
Fire Release: Great Fire Obliteration
Fire Release: Crimson Flame Flower
Fire Release: Strike of the Sun
Fire Release: Big Ball Strike of the Sun
Fire Release: Big Ball Spiralling Strike of the Sun
Fire Release: Blazing Flame
Fire Release: Great Dragon Fire Technique
Fire Release: Dragon Fire Technique
Fire Release: Demon Lantern
Fire Release: Spiral Vortex Flame
Fire Release: Dragon Flame Release Song Technique
Fire Release: Phoenix Sage Fire Technique
Fire Release: Phoenix Sage Flower Nail Crimson
Fire Release: Flame Whirlwind
Fire Release: Blast Wave Wild Dance
Fire Release: Hiding in Ash and Dust Technique
Fire Release: Ash Pile Burning
Fire Release: Guided Flame
Fire Release: Crimson Lotus
Fire Release: Thousand Degrees Viper
Fire Release: Flaming Ocean Burial
Fire Release: Blazing Palm
Fire Release: Flaming Kick
Flaming Kick
Fire Release: Punishment of the Hikami
Thunder Splitting Heaven and Earth
Susanoo: Chidori
Chidori
Flying Thunder God: Chidori Thunder Palace
Chidori Sharp Spear
Chidori Current
Sword of the Firebird: Chidori Katana
Chidori Senbon
Chidori Claws
Chidori: Thunder
Chidori Light Sword
Chidori: Thunderclap
Lightning Cutter
Lightning Cutter: Spiral Vortex
Lightning Cutter: Ion Storm
Lightning Cutter: Thunder God's Katana
Lightning Strike
Lightning Transmission
Lightning Release: Spider Web
Lightning Rat Violent Quake
Lightning Rat Violent Quake Nail Azure
Lightning Release: Purple Electricity
Telegram Flash
Lightning Release: Electromagnetic Murder
Lightning Release: Lightning Signal Fire
Lightning Release: Thunderbolt
Lightning Release: Blitzkrieg Technique
Lightning Release: Paralyzing Projectiles
Lightning Release: Thunder Blade
Lightning Release: Depth Charge
Electrocution Technique
Kirin
Kaminari
Kaminari Nagashi
Kaminari Senbon
Kaminari: Ion Storm
Kaminari: Spiral Vortex
Kaminari Sharp Spear
Susanoo: Kaminari
Sword of the Firebird: Kaminari Katana
Kaminari: Muramasa Inabikari-Hime
Flying Thunder God: Kaminari Thunder Palace
Indra's Arrow
Kalpavriksha
Wind Release: Rasengan
Wind Release: Spiraling Ring
Wind Release: Great Spiralling Ring
Blade of Wind
Vacuum Sword
Wind Release: Vacuum Blade
Wind Release: Violent Whirlwind
Wind Release: Vacuum Wave
Wind Release Slash
Wind Release: Vacuum Sphere
Wind Release: Vacuum Great Sphere
Wind Release: Vacuum Serial Waves
Wind Release: Air Bullets
Wind Release: Gale Palm
Wind Release: Wind Cutter Technique
Wind Release: Air Current Wild Dance
Wind Release: Air Blades
Wind Release: Reaching Talon
Wind Release: Verdant Mountain Gale
Beast Tearing Palm
Beast Tearing Gale Palm
Beast Tearing Slash
Beast Tearing Gale Slash
Wind Release: Wind Shield
Wind Release: Divine Wind
Wind Release: Pressure Damage
Wind Release: Great Breakthrough
Wind Release: Egyptian Falcon Sirocco
Wind Release: Cyclone Technique
Wind Release: Chariot of the Wind Emperor
Wind Release: Hammer of the Wind Emperor
Wind Release: Rotating Shuriken
Wind Release: Vortex of Prevention
Incantation Art: Flying Wind Blades
Tempest Shuriken Technique
Divine Protection of the Wind
Sword of Divine Wind
Uchiha Return
Gunbai Fanned Wind
Embodiment of Horus
Ardent Gale
Ardent Gale Shock Wave
Tempestuous Wind Storm
Skyward Dolor
Ethereal Dispair
Hiding in Mist Technique
Thousand Flying Water Needles of Death
Water Prison Technique
Water Release: Demonic Illusion Mist
Water Release: Great Waterfall Technique
Water Release: Water Dragon Bullet Technique
Water Release: Exploding Water Colliding Wave
Water Release: Great Waterfall Flow Technique
Water Release: Water Formation Wall
Water Release: Water Fang Bullet
Water Release: Water Bullet Technique
Water Release: Purifying Waters
Grudge Rain
Earth Release: Rock Section Cane
Earth Release: Quicksand Technique
Earth Release: Rock Pillar Spears
Earth Release: Earth-Style Wall
Earth Release: Multiple Earth-Style Wall
Earth Release: Earth-Style Rampart
Sage Art: Ice Release: Arctic Circle Manipulation
Six Paths: Requiem Star
Sage Art: Ice Release: True Several Thousand Hands
Ice Release: Several Hundred Hands
Great Heavenly Buddha
Ice Release Secret Technique: Requiem of a Living World
Ice Release Secret Technique: Wrath of Yuki-Onna
Ice Release: Hōbi Technique
Ice Release: Hotei Technique
Ice Release: Glorious Snow
Ice Release: Frozen Heaven Hundred Flower Funeral
Ice Release: Elemental Dragon
Ice Release: Elemental Phoenix
Ice Release: Frozen Spear Technique
Ice Release: Ice Flow Spears
Ice Release: Ice and Snow Bamboo Shoot
Ice Release: Rasengan
Ice Release: Spiralling Ring
Ice Release: Great Spiralling Ring
Ice Release: Great Snowball Technique
Ice Release: Ice Dragon's Feast
Hiding in Frost Technique
Ice Prison Technique
Ice Clone Technique
Multiple Ice Release Clone Technique
Grudge Snow
Ice Release: Flash
Ice Release: Rupture
Ice Release: Glacier Vapor Storm
Ice Release: Earthen Consecutive Chains of Ice
Ice Release: Ice Rock Dome of Magnificent Nothingness
Ice Release: Snow Maiden's Touch
Ice Release: Frostbite Blade
Ice Release: Death Spears
Ice Release: Arctic Arrow Technique
Ice Release: Arctic Storm
Thousand Flying Ice Needles of Death
Ice-Breaking Fist
Ice Release: Ice-Breaking Fist Onslaught Technique
Ice Release: Ice-Breaking Sledgehammer
Ice Release: Jagged Ice Wall
Ice Sword Technique
Ice Shield Technique
Ice Release: Swallow Snow Storm
Ice Release: Ice-Style Rampart
Ice Release: Ice-Style Wall
Ice Release: Multiple Ice-Style Wall
Ice Release: Arctic Chains
Ice Release: Aerodynamic Shuriken Storm
Ice Release: Ice Mirror Kaleidoscope
Ice Release: Fields of Ice
Ice Release: Lotus Flower Shuriken
Ice Release: Glimmer
Ice Release: White Bellflower
Ice Release: Stellar Barrier
Ice Release: Harmony of the Heavens
Certain-Kill Ice Spears
Demonic Mirroring Ice Crystals
All-Killing Ice Bullets
Tōketsu Chibaku Tensei
Waltz of Ice and Flame
Sage Art: Waltz of Ice and Flame
Blaze Release: Kagutsuchi — Heaven Step
Hurricane Swift Thunder Technique
Wind Release: Divine Storm Technique
Five Release Great Combo Technique
Truth-Seeking Ball
Expansive Truth-Seeking Ball
Tools
Sword of the Firebird
Gunbai
Antidote
Blood Increasing Pill
Bow & Arrow
Chakra Bars
Chakra Blade
Chakra Grenade
Chakra Vehicle
Chakram
Cloned Sharingan
Explosive Tag
Flying Thunder God Kunai
Fūma Shuriken
Kunai
Military Rations Pill
Mystical Eye Drops
Ocarina
Poison
Scroll of Gathered Secrets
Scroll
Sealing Tag
Senbon
Shakujō
Sharingan Serum
Shuriken
Six Paths Edible
Star Fruits
Starship
Sword of Totsuka
Tempest Shuriken
Wire Strings
Yata Mirror
Shuriken
Yata Mirror
Mechanical Bird
Summoning Tattoo
Kintaro Uchiha was a proud member of the Uchiha Clan and part of one of the few groups of survivors of the Uchiha Genocide. He is also the leader of the Organization, Children of the Phoenix and captain of the Anbu squad, Team Kamikaze.
Background
Kintaro was born in Konoha along with his twin sister Nozomi Uchiha on the 11th of November about a month after the 9 tails attack. He grew up as a happy child for his first 7 years of his life and was a close friend of Sasuke's as both Fugaku's and Katsu's families were very close friends. Kintaro greatly admired Itachi and Shisui as a child and even trained under Shisui to learn his signature technique the Afterimage Clone Technique. When Kintaro was a child he used to smile all the time and was a caring older sibling to his sister he always cheered her up and protected her when she was sad. Kintaro also mastered the Shadow Clone Technique at the age of 7 and graduated the Academy as a Genin. When Kintaro heard Shisui had committed suicide he was devastated. Despite it though he kept strong. But that strength would soon be for naught as a fate awaited the clan that would change his life forever.
The afternoon of the massacre, Katsu came running back to the house in a panic stating that they have to leave immediately or they'd die. Katsu stated on his shift as an ANBU he overheard Danzō and altered the records so that if they disappear no one would likely notice, records of Uchiha that were off on missions were altered to K.I.A. He stated that there are a few families gathered waiting for them in order to escape. Katsu made sure that no trace of them would be found using his skill as an ANBU to disappear from the records. Katsu and Kokoro both grabbed their things and packed clothes for the whole family as well as a few tools. Katsu opened an old trunk which revealed a long object wrapped in cloth with a seal on it to which Katsu undid and handed to his son stating that it was an Uchiha clan sacred treasure to which only he can wield. Kintaro unwrapped it to reveal a Katana sword. Kintaro then placed a strap on it and slung it over his shoulder before the family left to the meeting place with the other families, before they left Katsu grabbed an unusually large scroll to carry on his back. After arriving to the site with the families Katsu removed a boulder to reveal a tunnel dug into the ground, there were about 100 individuals total with only 80 of them being of Uchiha blood, the others being married into the clan as step-siblings, wives or mothers. Just as most of the group were evacuated into the tunnel, Obito arrived on the scene, Itachi sat in a tree nearby and assumed Obito had the situation covered before continuing the massacre. Katsu and a few others stayed behind to try and fend off the attack Katsu threw the scroll to Kintaro and told his children and wife to leave him. Just as he said that Katsu's throat was slit and the other 30 uchiha that stayed to fight dropped like flies but not before one of them, Kintaro's Uncle, Takahiro Uchiha, collapsed the cave entrance to assure the remaining 70 people, 50 of them with Uchiha blood were able to escape.
After escaping a good distance with the other families Kintaro was in a state of horrified shock and his sister was still crying as his mother held her close. Kintaro noticed his new ability to see chakra and realized he awakened his Sharingan. Kintaro opened the scroll his father gave him. It was a scroll not unlike the Scroll of Sealing. He knew the name of this scroll however from a time his father talking about it. It was the Scroll of Gathered Secrets. His mother stated she knew an area where her sister lives that they can go to. The area was called Ryūko Village. A village located in an isolated section of the land of the sky. Kintaro and Nozomi met all their new comrades and friends in this village who became members of the Children of the Phoenix. Kintaro and his family lived with his Aunt Kana and learned the secret techniques of the Uzumaki and in the Scroll of Gathered Secrets. Upon mastery of his Sharingan and gaining a third Tomoe he and his sister discovered their ability to use the rare Yōkai Technique. Time would pass by a few years and things would slowly turn to normal but his life would become anything but that.
Kintaro had a keen eye for anything chakra related. One specific time was at the Market where he pale skinned traveler where after bumping into each other and having a deep discussion entrusted a bag of three odd fruits before hastily returning to where she came. Kintaro activated his Sharingan and stared wide eyed at the three fruits. In awe he decided he wanted to entrust two of them to his sister and her closest friend. When Kintaro arrived home he met with Nozomi and Sakiko in his Bedroom, Kintaro then continued to distribute the chakra fruits so each of them has one. Sakiko and Nozomi were skeptical at first asking what they were. Kintaro stated he didn't know but stated he thinks that they would taste good and ate it. As Nozomi and Sakiko followed suit a powerful surge along with a painful headache overcame them for a few moments. After that event they did notice a sudden increase in power and stamina but did not realize at the time the power they hold is of the Sage of Six Paths.
Upon turning 10 years old Kintaro and Nozomi wanted to learn Senjutsu like his Mother. Kokoro stated to do so they needed to have a summon and that it has to be a summon that reflects the user, since Kokoro's Kitsune summon was already passed down to Sakiko, whom also is contracted with her own father's Eagle contract, she needed to find her children the perfect summon. Kokoro took them out to a flea market that was in town to try and find any contracts that was available. Various summoning contracts were found but none caught the two's eyes. Eventually Kintaro was allured to a contract in the back corner of a store booth all dusty. Kintaro asked about it and the clerk said no one noticed it or wanted it so it sat there. When Kintaro offered to buy it a strange look came about his face before stating if he really wanted it he can have it for free since it wasn't selling. Nozomi all the while caught eye of a scroll laid out on a shelf and stated she wanted that one. After getting their contract scrolls they went home and performed the contract signature. What Kintaro summoned as a result was a parrot. Nozomi and Kokoro looked in confusion as such a summon was virtually unknown. Nozomi's contract ended up being Hawks. After a while they were able to get to Aokigahara Rainforest,where their summons came from. Upon arriving they met Kitsunes, Parrots, Hawks, Eagles, Bakus, and pretty much all they can think of. However the Senjutsu that they were brought to learn wasn't of the parrots or hawks. They were in fact brought there because there was a contract made by their father with the Phoenixes and Dragons. That their contracts in the case their father died were to be passed down to his children. Whoever was the first born would become the next contract with the Phoenixes while the second born would become contracted with the Dragons. Both Kintaro and Nozomi signed the contracts accordingly to fulfill their late father's wish. The Phoenixes and the Dragons offered to teach them Senjutsu to which they accepted. Upon mastery of this skill they were told by their teachers that the power of the sage was within them. Which at the time they thought it simply meant that they have achieved the titles of sage.
Obito heard of Kintaro's and Nozomi's whereabouts and statuses overtime and eventually arrived in Ryūko Village by the time Kintaro was age 13. He sat back as Pain and the Akatsuki attacked the village as per Obito's orders. Mass panic and carnage ensued. In the onslaught Nozomi was running from an explosion and tripped over a rock. Kintaro started helping her up when Obito found the both of them. Kintaro stood guard and looked into Obitos eye before reading his thoughts. Kintaro was shocked about what he read in Obitos mind regarding his identity the Akatsuki, Itachi, and the eye of the moon plan. Pissed off at this point and prepared to give up his life protecting his sister without any weapons as he stood there in a defensive position, Obito rushed forward and was about to kill the both of them before their mother, Kokoro leaped in front of Obito's technique being stabbed through the chest. Kokoro stated that she will never let him touch her children. Kintaros shock and horror overtook him as his vision flashed back to the incident when his father died. Kokoro caughed up blood and and fell to the ground before Kintaro and Nozomi rushed to her side. Kintaro desperately performed the mystical palm technique but to no avail since his mother's chest cavity was fried beyond repair. Kokoro held her two kids close and said her final words in their ears.
"I love you... I love you two so much... And I'm proud to have been your mother... Now please live... For me..."
— Kokoro Uzumaki
She then sheds her final tears and closes her eyes forever. Both young Uchiha cry and scream before they give off an angry hate filled vibe and their bodies emit gold and silver auras, they slowly raise their heads and glare irate at Obito showing both their newly awakened Mangekyō Sharingan. Nozomi creates a black Rasengan with her newfound powers of black wind and Kintaro matches the ratio with his newfound power of the black black flames. Before Obito could do anything he is mortally wounded in a split second by both Nozomi and Kintaro who are both screaming loudly in sadness and hatred.
"I... I AM GOING TO FUCKING KILL YOU!!! NOW DIE AND BURN IN HELL YOU MISERABLE BASTARD!!!"
— Kintaro and Nozomi Uchiha in Unison
Obito seemingly dies with a hole in his abdomen however his right eye goes blind and his body fades away like an illusion escaping the scene using Izanagi. The other Akatsuki members flee with him. This event triggered their goal to Exterminate the Akatsuki and kill Obito for good. This is the day the Children of the Phoenix were born.
On an operation the Children of the Phoenix were on regarding exploring and mapping the surrounding jungle, Kintaro and Nozomi heard faint cries from the tree line. Kintaro and Nozomi went to check it out. Upon closing in on the area a fiery colored phoenix and a blue dragon popped out and flew right by the two before hiding behind a rock. Kintaro slowly approached the rock and found a young girl with fiery red hair along with red eyes was crying with a boy that has blonde hair, light blue eyes, and was also crying, Kintaro talked with them and found out both are experiments by the Ōtsutsuki clan and were two of 5 tailed beasts created with chakra from an alien world, the reason they could shift into human form was because they were created to better interact with humanoid beings than the previous tailed beasts. The Otsutsuki are after them since they escaped the lab however Kintaro and Nozomi made an offer, to become their Jinchūriki, Kintaro explained the idea and how it worked, the two were extremely reluctant but after hearing some of the details they agreed and the phoenix Suzaku was sealed inside Kintaro while the dragon Seiryū was sealed inside Nozomi. this started their lives as Jinchūriki.
Kintaro by the time of the Fourth Shinobi World War, mastered his Mangekyō abilities along with his sister and confronted Obito once again in the mountain's graveyard. He failed to kill him then as Black Zetsu posed a chalenge. They only managed to break free by transforming into their Tailed Beast Chakra Modes. As Zetsu was about to absorb their power, The two uchiha managed to unlock their latent power merging their tailed beast skills with their senjutsu and Six Paths Chakra. Nine Truth-Seeking Balls appear behind their backs as their Six Paths Sage Modes are awakened. Zetsu, caught off guard at the sudden change lost grip on the two before advising Obito to get to the battlefield. Obito disappeared to the battlefield shortly thereafter. Later on during the final battle both Nozomi and Kintaro confronted a Revived Madara and Kintaro manage to deal some serious damage to his internal organs due to his speed. However this also caught Madara was caught off guard since Kintaro's chakra signature and appearance resembled Izuna's. When asked about this Kintaro confirms his relation to him and mockingly refers to Madara as Uncle Madara-Sama before he and his sister activated their Six Paths Sage Mode. This made Madara rather pissed and he decided to attack the young Uchiha. During the short lived heated fight his Gunbai Uchiwa was stolen by Nozomi before they Warped away in response to Hashirama arriving on the scene. However Madara attempted to gouge out Kintaros eyes last moment with a kunai giving Kintaro a scar over his left eye. Nozomi kept the Gunbai as her personal weapon. They are among the few not captured in the Infinite Tsukuyomi due to having interdimensional abilities.
After The War, Kintaro along with his organization continued to be stationed in Ryūko Village however they eventually returned to the Hidden leaf where he resides today as a Jonin level Anbu Captain. He eventually gets engaged to Sakiko.
Around the time of the Blank Period, Kintaro found himself, his whole Organization, and part of the Ōtsutsuki Clan's Dharma Resistance up against Momoshiki and Kinshiki Ōtsutsuki. The Resistance took heavy losses, nearly all his comrades were left incapacitated near death, and Kintaro was nearly killed from one shot of Momoshiki's Crimson Flame Technique, leaving him unconscious with a massive gaping hole in his midsection. Thankfully because of his tailed beast's special abilities he regenerated the lost tissue and survived albeit barely. He now bears a massive burn scar over his midsection in which Kintaro treats with special healing medicines given to him by the Ōtsutsuki Clan Rebels.
During the blank period the scar given to him by Momoshiki had completely healed and the scar over his left eye had been healed due to recent advances in medicine. His hair has gotten longer overall and a new power manifested in Kintaro's eyes, Amenoshizen. He has chosen new attire and is as tall as Sasuke if not taller. He eventually gets married and has two children, Aoki Uchiha and Kaede Uchiha,
Personality
As a child he was happy, joyful and always wanting to impress his family and friends. He also had a bit of a pervy side as he used to flip Sakiko's Skirt when they were kids, this usually resulted in Sakiko punching Kintaro through a wall. Alot of these attributes begin to resurface after the Fourth Shinobi World War. That being said he still seems cold and detached at times but is only trying to protect his loved ones. He is indeed someone who values others more than himself. He is deeply emotionally attached to the friends and family he has and has suffered a lot because of it. He is rather two faced showing his more merciless crazed demonic blood lust during battle due to his curse of hatred. However it is revealed he regrets doing the things he did afterwards. This is mainly due to the fact his curse of hatred is manifested through the psychological trauma caused by the deaths of his parents. If anyone hurts his family or friends he enters this state of pure hatred as a result.
Appearance
Kintaro overall looks seemingly identical to Izuna Uchiha, his 3rd Great Grandfather. He has a fair complexion with spiky waist-length black hair that has a slight blue tint to it in which he keeps tied in a low ponytail. He has a scar over his left eye that was given to him in a fight with Madara Uchiha during the Fourth Shinobi World War, However the eyeball itself is undamaged.
One almost a year after the Fourth Shinobi World War Kintaro gained a large scar over his midsection from nearly being killed by Momoshiki Ōtsutsuki. Later in the blank period his hair grows longer and long bangs cover his left eye which due to recent medical advancements no longer has a scar over it. The scar over his midsection has also been cleared up by medical technological advancements.
Abilities
Chakra and Physical Prowess
Kintaro, as an Uchiha was considered a prodigy comparable to Shisui and Itachi. He had unusually high chakra reserves even for an Uchiha-Uzumaki hybrid. This gave Kintaro a massive amount of stamina and vitality as well as a strong constitution. His chakra color is multi-shaded gold in hue and strong, bright, loving, and loyal in feeling. He can easily learn new jutsu because of his increased skill and knowledge in manipulating chakra and how chakra effects the body, mind, or environment. Even before he had his tailed beast he inherited the fabled Regeneration Ability due to his potent mix of chakra from his two lineages.
Half Uzumaki Lineage
Kintaro is half Uzumaki as such he is granted extreme vitality and longevity. It is also one of the factors why his Mangekyō Sharingan doesn't suffer blindness. Along with these perks is his Regeneration Ability, Which is seemingly even more potent that Hashirama's.
Six Paths Chakra
Kintaro gained the six paths chakra after eating a Chakra Edible with his friends. With his Six Paths Chakra his regeneration ability was drastically enhanced allowing him to regrow lost limbs such as a hand or foot. This also further enhanced his body's durability and is another seperate factor to why he doesn't suffer Mangekyō side effects. He did not discover it's full power though until later in life.
Star Chakra
Two years after the Fourth Shinobi World War, Kintaro was involved in research and experimentation in the creation of Hoshigakure's Artificial God Tree. The result being the creation of Star Fruits, Chakra fruits that when eaten can allow a person to naturally produce Star Chakra alongside their own. Kintaro is the one of the First few shinobi to ever be able to obtain this unique trait.
Jinchūriki Transformations
Kintaro as the jinchuriki of Suzaku, Has a massive chakra reserve at least three hundredfold greater than that of Kakashi Hatake. Due to his Uzumaki-Uchiha lineage he has effective control over Suzaku's massive reserves. He's even mastered it to the point he can use Tailed Beast Balls, Phoenix Chakra Mode, and eventually learned to channel it to his Mangekyō Sharingan to create his Tailed Beast Susanoo techniques. The only reason he's mastered his tailed beast skills is because of the good cooperative relationship he has with Suzaku. Being a Jinchuriki has also allowed him to be able to Regenerate entire Arms or Legs and heal much faster than normal.
Ninjutsu
Kintaro was a prodigy in Ninjutsu. He is very versatile and creative with his abilities even as to begin referencing it as art once in a while. His training regiment is different than typical it is combination of using shadow clones and intense meditation and balance excorcises. The special part of his training however that allowed him to master all 5 elements is a secret method in his Scroll of Gathered Secrets that involves using one's soul and will to affect one's chakra in a way that allows refined control and transformation. Despite this combination method it took him between 2 to 5 years to master the elements. Because of this training regiment he became very sensitive to the evironment and chakra itself. Because of this sensitivity he can notice even the slightest irregularity as if it was simply intuition. He was able to apply this skill on observing and performing techniques correcting any irregularities he notices decreasing the vast amount of time needed to perfect ninjutsu techniques. Kintaro describes the secret method as seeking his inner power while training his body with shadow clones was seeking his outer power. By connecting these powers in one training regiment he unified body and spirit in perfect balance being able to fully realize his very existence in the world from within. He also can Summon Phoenixes and Parrots.
Shadow Clone Technique
Kintaro mastered the Shadow Clone Technique at a young age of Seven years old as a result he graduated the Academy as a Genin only one week before the Uchiha Downfall. He has used his shadow clones for various tasks but mostly battle or running questionable errands with little to no risk. He has also used it to gain intel.
Afterimage Clone Technique
This technique Kintaro learned from Shisui Uchiha. He doesn't use it as often as his shadow clones due to the fact this technique is specifically for battle.
Rasengan
Kintaro has mastered the Rasengan at the age of Eleven. By age Thirteen he created the advanced variations known as the Spiraling Ring and Great Spiraling Ring. He obtained the rasengan as one of the stolen techniques in the Scroll of Gathered Secrets.
Chidori
Kintaro is one of the first to Master Chidori next to sasuke and has also learned to use its other variant, Lightning Cutter. He first obtained such jutsu by observing Sasuke's fight with Itachi from a distance. By analyzing the jutsu used with his sharingan he managed to decipher the technique and learn to use it himself.
Space–Time Ninjutsu
Kintaro is a skilled user of Space–Time Ninjutsu. He posesses the Yōkai ability and The Flying Thunder God Technique. Kintaro is most versatile with these techniques. He often studies sciences involving quantum mechanics and physics in order to develop new Space Time Ninjutsu or learn other ones.
Fūinjutsu
As a half Uzumaki, Kintaro has extensive knowledge in Fūinjutsu. So much in fact that he sealed Suzaku inside his body by himself using the Eight Trigrams Sealing Style. His Mother, Aunt, and Cousin all taught him the secrets of Fuinjutsu and secret uzumaki techniques.
Sensory Abilities
Kintaro is very skilled in Sensory Perception. Because of his training sessions a side effect is extreme sensitivity to chakra, so he made use of this hidden talent. When used with his Sharingan he can often see things inside people that others or themselves don't see. This extra sensitivity also makes it extremely easy for him to determine if a person is friend or foe or if a person is lying or telling the truth. Even when a person he's bonded with is in trouble he can sense it.
Chakra Control
Kintaro is extremely skilled in chakra control. It is said he rivals Sakura in this category. He can cast powerful genjutsu and use the Spirit Hand technique he created to shatter the ground around him or destroy entire buildings. His most powerful asset of this though is that he can completely conceal his chakra with ease and can perform transformations in both shape and nature with no real trouble at all. This also contributes to his advanced usage of his Blaze Release Techniques.
Nature Transformation
Kintaro can utilize all five nature transformations and Yin-Yang Release. He has complete mastery in Fire Release, Lightning Release, and Wind Release as well as skilled mastery in Water Release and Earth Release. He is a skilled user in Fire Release especially since Fire is his Affinity and hes an Uchiha. After the events of Momoshiki's Ambition, Kintaro discovered his ability to use Ice Release. This being said his mother and himself only inherited through a phenomena known as Avatism, a genetic throwback mutation in which long dormant genes are turned back on. This is due to the fact Ice Release did originate in the Otsutsuki clan as well with Momoshiki Otsutsuki being a prime example of this. As Uzumaki and Uchiha are both descended from the Otsutsuki such an evolutionary throwback is possible but extremely rare.
Ice Release
Kintaro is an extremely skilled user of the Ice Release Kekkei Genkai. Since it mixes his tertiary element, Wind Release with his quaternary element, Water Release it was relatively easy to master. It compliments his Mangekyō ability, Blaze Release. He is notorious for using these two powers in combination. When used in conjunction with his Rinnegan, he can create huge balls of ice. Also as a strange side effect, he is virtually unaffected by cold weather and environments.
Genjutsu
Kintaro is Highly skilled in Genjutsu. He often only uses Genjutsu Through his Sharingan. He often incorporates Medical properties in a few of his Genjutsu. Although not always used his skills in using illusions in such a way is due to studies in biology, psychology, and the sciences in general.
Taijutsu
Bukijutsu
Kintaro being an Uchiha has considerable skills in Bukijutsu. He's a very skilled Kenjutsu user as well, posessing the Sword of the Firebird handed down to him by his father Katsu Uchiha. One of the most unique things about Kintaro is his use of Chakrams. He uses both variants of the Chakram but the variant he uses the most is his Splitting Chakram often using it as trench knives in hand to hand combat. He is well versed in using his Shakujo in a fight.
Kenjutsu
As a wielder of the Sword of the Firebird, Kintaro is extremely adept at Kenjutsu. His specific Kenjutsu Style is a Mix of Iaidō and traditional Kenjutsu. This blend of Samurai and Shinobi swordsmanship allowed him to be more versatile with his sword skills against various enemies. But his key skill of this Kenjutsu Style is the use of Chakra Particles in the atmosphere and utilize them by linking the chakra in his blade to the particles in the atmosphere being able to easily apply nature and shape transformations within the atmosphere itself. This was evident after he charged tailed beast chakra within the blade and performed the Tailed Beast Shockwave by simply swinging his blade just after drawing it. This style was designed to put out more power in his strikes than what he was putting into the technique increasing the technique's power while decreasing the amount of chakra poured in. Chakra Absorption and Conversion is also involved in some of his techniques. Because of the spontaneous nature of this style, not many of his Kenjutsu techniques have names.
Nintaijutsu
As a master of the Chakra Personification Technique and creator of it's advanced and mixed form Sharingan: Psychokinesis, Kintaro is very adept at nintaijutsu. Often used in conjunction with his various elemental fighting styles and Kenjutsu style, it is one of the abilities that made him feared in the shinobi criminal underworld. His common use of the Fire Release Chakra Mode and his flight capabilities are among one of the attributes that gave him the Moniker, Crimson Eyed Phoenix. The other attribute that gave him this moniker is his use of chakra based armors and body enhancing medical ninjutsu alongside his advanced regeneration abilities and skills that his tailed beast gave him. These abilities literally made him like a phoenix, that even if you cut his limbs off or beat the crap out of him he would just get back up and kill you for it staring into his target's eyes with a seemingly heartless crimson gaze.
Senjutsu
Kintaro Can utilize Senjutsu, He learned Phoenix Sage Mode from the Phoenixes of Aokigahara Rainforest. Kintaro uses senjutsu to overall enhance his abilities. His Sage Mode enhances his vitality and healing as well as his Sharingan and Mangekyō Sharingan's Abilities. Because of his chakra control skills he has been one of the few to attain perfected sage mode.
Six Paths Sage Mode
Kintaro can enter the Six Paths Sage Mode, when he does he gains nine Truth-Seeking Balls And can levitate. In this state, Kintaro can regenerate close to Madara Uchiha's level. He did not discover this latent power until his final confrontation with Obito and Zetsu. The sudden surge of this power caught even Black Zetsu off guard.
Kyōsojutsu
Inner Path
Celestial Energy
Bodhisattva Guardian Mode
Dōjutsu
Sharingan
As an Uchiha, Kintaro possesses his Father's Clan's Kekkei Genkai, the Sharingan. Kintaro First Awakened his Sharingan when he saw his Father Die at the hands of Obito Uchiha. Upon maturing his sharingan he gained access to the ability, Yōkai, A rare Space Time Dōjutsu that very few Uchiha possess. He is very versatile with his Sharingan even being able to Copy Kinshiki Otsutsuki's Tool Creation Technique and use a variant of it.
Mangekyō Sharingan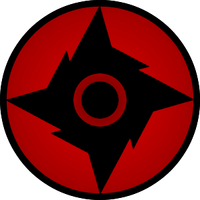 Kintaro Awakened His Mangekyō Sharingan after watching his mother, Kokoro Uzumaki die protecting Kintaro and Nozomi from Obito's attack in Ryuko Village.
In his left eye he could cast the black flames of Amaterasu and in his right eye he could control it with Blaze Release: Kagutsuchi.
Kintaros Susanoo is Gold in color. He does not suffer the usual side effects of Mangekyō overuse so he was able to master Complete Body Form. Due to him being half Uzumaki the stress put on his body's cells using Susanoo has decreased significantly too. Kintaro's Susanoo uses two Katana swords with sheathes and can manifest a bow that doubles as a shield. Its Appearance is nearly identical to Sasuke's in its final form save for the face being identical to Madara's susanoo, but nearly identical to Itachi's in skeletal and humanoid form. In its armored form however, it resembles a Karasu-Tengu with a beak-like mouth and wears a pair of magatama earrings and a magatama necklace which are retained in it's complete body form. It can utilize Yasaka Magatama and its variants. Kintaro can use Susanoo on just one part of his body such as an arm to deflect an attack and can apply Senjutsu to his Susanoo to make it stronger and more durable in a fight. Kintaro usually uses Susanoo charged with tailed beast Chakra instead of a standard tailed beast transformation. It is also noted Kintaro can use susanoo chakra to Enhance his strength.
Later on during the blank period he awakened another set of abilities in his eyes, the Sage of Six Paths' Mangekyō ability Amenotejikan. This was due to the way Kintaro Acquired the Six Paths Chakra. The sage sealed his Mangekyō Abilities in one of the fruits made from his body. This just so happened to be the fruit Kintaro ate but didn't manifest until later. It was also said Madara had this ability and anyone possessing it was considered the heir of the sage's reign.
Rinnegan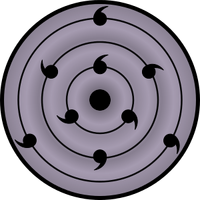 Kintaro recently gained a Rinnegan in both eyes. They have a set tomoe and retains the Sharingan's and Mangekyō Sharingan's powers. However unlike Sasuke's it has nine Tomoe and when deactivated his eyes retain the Sharingan's standard and higher forms. It also seem's these eyes and Sasuke's are connected somehow as Kintaro can instinctually know if Sasuke was in danger if nearby. It is theorized that Sasuke recieved the sage's Rinnegan essence during the latter's visit to the near dead shinobi while the other piece of essence essence of the Rinnegan was sealed in the Six Paths Edible Kintaro ate.
With these eyes Kintaro has access to all it's basic techniques and now has easier access to all five chakra natures allowing him to almost flawlessly perform any of his ninjutsu. He can easily see what would normally be impossible to see and visualize the Eight Gates. However a weird additional ability his left eye gives aside from enhanced Genjutsu, is that he can see and passively absorb natural energy at will. Kintaro states he has another few hidden abilities with his Rinnegan but has yet to reveal them.
Like Sasuke's Rinnegan, Kintaro's too has several sciences to it. One of them like Sasuke's was pattern recognition. It helped him analyse patterns inside codes, and by comparing them to similar patterns, decipher what was written. When put into use, one could take large amounts of information from a small amount of text.
Trivia
Kintaro translates to Golden Boy, which is also a popular folkhero in japan known for his strength and is also a homage to his Chakra Color and Color of his Susanoo.
Kintaro Uchiha is one of the main characters in ArtistOfTheDalek's fanfic series, Children of the Phoenix.
Despite being able to use such devastating techniques like Tenpenchii and Chibaku Tensei: Stellar Origin he almost never uses them because of their destructive capabilities which can kill ally and enemy alike. He often treats such techniques as warheads in a stockpile to be used in last resort.
Kintaro's use of his Rinnegan's recognition also allows him to easily interpret, learn, speak, and decipher other languages, allowing him to understand other cultures and people's dialects.
Kintaro Databook

Kintaro is directly descended from both Indra and Izuna. The explanation being is before Izuna (who then was 24 years old) was mortally wounded he left a Girlfriend he loved back home who was going to tell Izuna that she was pregnant when he got home. Unfortunately he died before he would know about his unborn twin children. This unnamed Girlfriend was directly descended from Indra's eldest bloodline and as a result possessed the Sword of the Firebird.
Kintaro's Father and Uncle are identical twins like izuna's children were. As most times twins skip generations. Kintaro and Nozomi are Semi-Identical twins having different Paternal chromosomes while having the same Maternal chromosomes. This in itself is rare and is most likely a result of their half Uzumaki lineage. As the only other known pair of Semi-Identical twins from separate clans is their friends, Okito Hyuga and Chisaki Hyuga.
Kintaro's favorite food is Tempura Sushi and his least favorite is anything too sweet.
Kintaro's favorite drinks are Sake and Plum Wine and his least favorite is Vegetable Juice.
Kintaro's Hobbies are Visiting Sushi Restaurants, Hanging out with his Friends, and Drawing or Writing.
Kintaro's Weapons of choice are the Sword of the Firebird and his Shakujō.
Kintaro does not use Shuriken often instead opting to use Chakrams in some of his Shuikenjutsu.
Up until the Fourth Shinobi War his goal was to kill his parents' murderer, Obito Uchiha.
Kintaro has already almost died once at the hands of Momoshiki only to be saved by his Celestial Beast and his then fiancee Sakiko Uchiha.
Kintaro's signature fighting styles involve simultaneous use of different fighting styles he's mastered. This includes various taijutsu styles, space time ninjutsu, and various elemental styles. By arranging these in different combinations he remains unpredictable and hard to keep track of.
The reasoning behind his blood ties to Karin and Naruto is that his grandparents had multiple affairs. His Mother and Aunt, Kokoro and Kana being children of his grandmother and grandfather while Kushina had a different Father and Karin's Mother being born from a different Mother.
Kintaro, like Sasuke currently is acting like a police force of sorts but mainly within the village.
Kintaro did not reveal himself to the hidden leaf until a couple months after the Fourth Shinobi War with very few in the village Aknowledging his Uchiha lineage hence why most in the village still refer to Sasuke as the last Uchiha.
Community content is available under
CC-BY-SA
unless otherwise noted.