Welcome to the Wiki!

Welcome to the Naruto Fanon Wiki!
We have been editing 35,134 articles since we were established in 2006.


This a wiki of fan-invention. Fans of the series are free to create their own characters, abilities, clans, storylines, and everything else!
About Us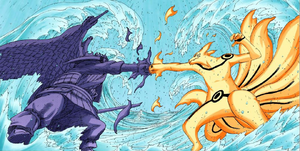 The Naruto Fanon Wiki, founded in 2007 by LaviBookman, is a wiki of fan-invention based in the Naruto universe. Here, we allow users to create their own fan fiction stories, characters, jutsu, etc., as well as allowing them to collaborate together in what is known as a roleplay; where fan fiction writers can write stories together, pit characters against each other in fights, and even do comedy skits. Users are also encouraged to get to know each other, make friends, and communicate with each other via the Message Walls provided by Wikia to promote a friendly writing environment, as well as allowing them to collect feedback for their works. Our goal is constant improvement in quality to become the best Naruto fansite on the internet!
Hall of Fame
The Hall of Fame is the ultimate nod of recognition towards articles that have been distinguished for their evident quality and creative content. It stands as a representation of what the community holds to the highest regard, and is a feather in the cap of anybody who manages to make the cut. A full list of all honoured articles can be found here.
Random Feature Article
As a fabled entity throughout history, Shuten Dōji (酒呑童子しゅてんどうじ) has been known as the most powerful of all the oni who lived in the mountains. The mountain that the legends speak of is Ōeyama (大枝山) which is also referred to as Mount Ooe. Shuten Dōji was known throughout his time as the fiercest leader of all the oni and was by far the most renown. Legend states that there are four birth legends that depict his origin. However, for the NautoFanon version, the author will be basing this character off of the Mt. Ibuki birth legend. As the president of the Priory of Yang, Shuten Dōji has made his mark across the shinobi world as being a ruthless facilitator of destruction and pain. An entity known throughout Sargon as being "vile" due to his blood containing a dark and extremely fatal chakra virus (チャクラウイルス, chakura uirusu), he is able to transmit this deadly virus on a global scale in hopes to fulfill his priory's main objectives.
Feel Free to Create A Page!
To create a new article, simply click the link below:
Create A New Page
Or you can click on one of the Forms that are used here:
Forms Giving Trouble?
Trouble getting started?
Announcements
Here the Administration Team will announce the updates or publish news related to the Wiki.
August 15, 2019- New rule implemented to disallow the creation of a Mangekyō Sharingan technique that automatically grants the use sage-based abilities like Sage Mode.
August 17, 2019- The navigation bar has been edited to get rid of redundant or unused options. Help has been removed and its option of Guides has been moved under Community. The Hall of Fame has been put under Popular to replace the unused "Highest Ratings" option.
September 5, 2019- New rule implemented on the nature of possessing multiple combination/advanced natures.
If you see this, your JavaScript might be disabled or DiscordIntegrator plugin isn't working. If the latter, please contact a wiki administrator.
Community content is available under
CC-BY-SA
unless otherwise noted.