"The village isn't all they left us. We're still here."


This article, Nozomi Uchiha, is currently under active construction by the author(s) of whom this article's property falls under.
"ATTENTION INFERIOR LIFEFORMS!"


This article, Nozomi Uchiha, is property of the ArtistOfTheDaleks. Disturb my empire without permission and you shall be Exterminated!
Nozomi Uchiha

Part I

-

Part II

-

Part III

Voice Actor
Japanese: Nao Tōyama
English: Brina Palencia
Name
Nozomi Uchiha
Kanji
うちはノゾミ
Romanji
Uchiha Nozomi
Alias
Black Dragon of the Sharingan
Goddess of the Dark Wind

Personal Status

Birthdate
November 11
Age
Part I: 12-13
Part II: 15-16
Part III: 17-21
Status
Alive
Gender
Female
Height
Part I: 148.9 cm
Part II: 170.5 cm
Part III: 178.7 cm
Weight
Part I: 39.1 kg
Part II 46.9 kg
Part III: 49.8 kg
Blood Type
AB-

Relationships

Clan
Uchiha Clan
Uzumaki Clan
Family
Katsu Uchiha (Father)
Kokoro Uzumaki (Mother)
Kintaro Uchiha (Twin Brother)
Takahiro Uchiha (Uncle)
Sakiko Uchiha (Sister-In Law)
Yui Uchiha (Sister In-Law)
Kaedé Uchiha (Niece)
Aoki Uchiha (Nephew)
Izuna Uchiha (3rd Great Grandfather)
Madara Uchiha (4th Great Uncle)
Kaiya Uzumaki (Cousin)
Kana Uzumaki (Aunt)
Kushina Uzumaki (Half Aunt)
Karin's Mother (Half Aunt)
Naruto Uzumaki (Half Cousin)
Karin (Half Cousin)
Indra Ōtsutsuki (Direct Ancestor)
Asura Ōtsutsuki (Direct Ancestor)
Hagoromo Ōtsutsuki (Direct Ancestor)
Akatsuki Uchiha (2nd Great Nephew) Tenshi Uchiha (Grandson)
Occupation
ANBU Squad Leader
Affiliation
Konohagakure
Ryūko Village
Aokigahara Rainforest
Children of the Phoenix
Team
Team Kamikaze
Unit Two

Classifications

Rank
Part I: Genin
Part II: Chūnin
Part III: ANBU
Classification
Sage
Jinchūriki
Forgotten-nin
Sensor Type
Ninja Registration
012353
Academy Prom. Age
7
Chūnin Prom. Age
14
Jōnin Prom. Age
17

Skills

Kekkei Genkai
Sharingan
Mangekyō Sharingan
18px Storm Release
Hiden
Sharingan: Psychokinesis
Sharingan: Apportation
Mysterious Peacock Method
Enigmatic Stardust Method
Tailed Beast
Seiryū
Unique Traits
Enhanced Healing Factor
Immunity to Most Illness and Poisons
Enhanced Vitality
Enhanced Physical Strength
Enhanced Physical Speed
Can Absorb Chakra
Semi-Retroactive Immortal
Naturally Produces Star Chakra
Nature Type
Fire Release
Lightning Release
Wind Release
Water Release
Earth Release
18px Storm Release
Yin Release
Yang Release
Yin-Yang Release
Jutsu
Adamantine Absorbing Chains
Adamantine Attacking Chains
Adamantine Chainmail Armor
Adamantine Chakra Constructs
Adamantine Sealing Chains
Ardent Gale
Ardent Gale Shock Wave
Beast Tearing Palm
Beast Tearing Gale Palm
Beast Tearing Slash
Beast Tearing Gale Slash
Ball of Lightning
Beast Sealing Technique
Beast Tearing Gale Palm
Beast Tearing Palm
Blade of Wind
Body Flicker Technique
Body Replacement Technique
Chakra Enhanced Speed
Chakra Enhanced Durability
Chakra Enhanced Strength
Chakra Exertion Technique
Chakra Levitation Technique
Chakra Personification Technique
Chakra Scalpel
Chakra Transfer Technique
Cherry Blossom Impact
Chidori
Chidori Current
Chidori Senbon
Chidori Sharp Spear
Coercion Sharingan
Continuous Tailed Beast Balls
Dark Beast Tearing Gale Palm
Dark Beast Tearing Palm
Dark Blade of Wind
Dark Gunbai Fanned Wind
Dark Uchiha Return
Dark Vacuum Sword
Decree of the Sky
Demonic Illusion Form
Demonic Illusion: Bloody Dream
Demonic Illusion: Mirror Heaven and Earth Change
Demonic Illusion: Mirror Heaven and Earth Shatter
Demonic Illusion: Shackling Stakes Technique
Divine Protection of the Wind
Dragon Chakra Mode
Earth Release: Earth-Style Wall
Earth Release: Multiple Earth-Style Wall
Earth Release: Quicksand Technique
Earth Release: Rock Pillar Spears
Earth Release: Rock Section Cane
Earth Release: Earth-Style Rampart
Eight Trigrams Sealing Style
Enigmatic Stardust Method
Ephemeral
Ethereal Dispair
Evil Disturbance Waltz
Fire Release: Blast Wave Wild Dance
Fire Release: Demon Lantern
Fire Release: Dragon Fire Technique
Fire Release: Dragon Flame Release Song Technique
Fire Release: Flame Whirlwind
Fire Release: Great Dragon Fire Technique
Fire Release: Great Fire Annihilation
Fire Release: Great Fire Destruction
Fire Release: Great Fireball Technique
Fire Release: Great Flame Flower
Fire Release: Phoenix Sage Fire Technique
Fire Release: Phoenix Sage Flower Nail Crimson
Flight Technique
Flying Wind God Technique
Embodiment of Horus
Four Symbols Seal
Fujin's Fist
Full Blossom: Cherry Blossom Impact
Genjutsu: Sharingan
Great Spiralling Ring
Great Vacuum Cannon
Gunbai Barrier Technique
Gunbai Fanned Wind
Hanabatake
Hiding in Mist Technique
Hiding in Poison Technique
Hiding in the Wind Technique
Hurricane Swift Thunder Technique
Indra's Arrow
Izanagi
Izanami
Killing Intent
Kirin
Lightning Cutter
Lightning Cutter: Spiral Vortex
Lightning Cutter: Thunder God's Katana
Lightning Rat Violent Quake
Lightning Rat Violent Quake Nail Azure
Lightning Release: Electromagnetic Murder
Lightning Release: Lightning Signal Fire
Lightning Release: Spider Web
Lightning Release: Thunderbolt
Lightning Strike
Lightning Transmission
Majestic Attire: Susanoo
Mangekyō Sharingan: Analysis
Manipulated Shuriken Technique
Manipulating Attack Blades
Manipulating Windmill Triple Blades
Mind's Eye of the Kagura
Multiple Shadow Clone Technique
Mystical Palm Technique
Mysterious Peacock Method
Mysterious Peacock Chakra Mode
Negative Emotions Sensing
Peacock Whirlwind
Peacock Whirlwind Formation
Poison Mist
Rasengan
Regeneration Ability
Remote Chakra Manifestation Technique
Repulsion Technique
Rotating Ferocious Wind
Sage Art: Embodiment of Nature
Sage Art: Storm Release Light Fang
Sage Art: Yin Release Lightning Dispatch
Sage Mode (Dragon)
Shadow Clone Technique
Shadow Shuriken Technique
Sharingan: Marionette
Sharingan: Paralysis
Sharingan: Psychokinesis
Sharingan: Ultimate Defense
Shinatsuhikō
Six Paths Sage Mode
Six Paths Senjutsu
Six Paths Susanoo
Star Chakra Mode
Susanoo Chakra Mode
Skyward Dolor
Sound Wave Technique
Spiralling Ring
Storm Release: Eye of the Hurricane Massive Rotation
Storm Release: Fist Missile Technique
Storm Release Secret Technique: Demon Dragon Storm
Storm Release: Eye of the Hurricane Massive Rotation
Storm Release: Fūma Shuriken Technique
Storm Release: Multiple Fūma Shuriken Technique
Storm Release: Great Raptor Technique
Storm Release: Hiding in Thunderstorm Technique
Storm Release: Laser Beam
Storm Release: Laser Carnage
Storm Release: Laser Circus
Storm Release: Mass Driver
Storm Release: Railgun
Storm Release: Laser Senbon Barrage
Storm Release: Shuriken
Storm Release: Thunder Cloud
Storm Release: Thunder Cloud Inner Wave
Storm Release: Celestial Arrow
Storm Release: Particle Accelerator
Storm Release: Storm Shuriken
Summoning Technique (Hawk, Dragon)
Summoning: Lightning Flash Blade Creation
Susanoo
Susanoo: Tsukumo
Sword of Divine Wind
Tailed Beast Ball
Tailed Beast Great Spiralling Ring
Tailed Beast Arsenal
Tailed Beast Spiralling Ring
Tailed Beast Tsukumo
Tailed Beast Yasaka Magatama
Tailed Beast Chakra Arms
Tailed Beast Rasengan
Tailed Beast Shockwave
Tailed Beast State
Tailed Beast State: Susanoo
Tailed Beast Telepathy
Telegram Flash
Tempest Shuriken Technique
Tempestuous Wind Storm
Temporary Paralysis Technique
Tenpenchii
Tool Creation Technique
Torii Seal
Transformation Technique
Truth-Seeking Ball
Uchiha Return
Vacuum Sword
Vector Technique
Water Release: Leviathan's Arrow Technique
Water Release: Rainy Day Technique
Water Release: Triple Leviathan's Arrow
Water Release: Poseidon's Trident Technique
Water Release: Water Bullet Technique
Water Release: Water Shuriken
Water Prison Technique
Water Release: Demonic Illusion Mist
Water Release: Exploding Water Colliding Wave
Water Release: Great Waterfall Flow Technique
Water Release: Great Waterfall Technique
Water Release: Purifying Waters
Water Release: Water Dragon Bullet Technique
Water Release: Water Fang Bullet
Water Release: Water Formation Wall
Weather Manipulation
Water Release: Water–Heavens Convergence
Wind Cutter Technique
Wind Enhanced Strength
Wind Release Slash
Wind Release: Air Blades
Wind Release: Air Bullets
Wind Release: Air Current Wild Dance
Wind Release Chakra Mode
Wind Release: Cyclone Technique
Wind Release: Dance of the Dragon
Wind Release: Divine Wind
Wind Release: Dragon Gale Storm
Wind Release: Gale Palm
Wind Release: Great Breakthrough
Wind Release: Chariot of the Wind Emperor
Wind Release: Hammer of the Wind Emperor
Wind Release: Vacuum Blade Serial Murderer
Wind Release: Great Spiralling Ring
Secret Art: Hiding in Wind and Clouds Technique
Wind Release: Pressure Damage
Wind Release: Rapid Tornado
Wind Release: Rapid Wind
Wind Release: Rotating Shuriken
Wind Release: Rasengan
Wind Release: Vacuum Blade
Wind Release: Vacuum Great Sphere
Wind Release: Vacuum Serial Waves
Wind Release: Vacuum Sphere
Wind Release: Vacuum Wave
Wind Release: Verdant Mountain Gale
Wind Release: Wave of Resurgence
Wind Release: Wind Cutter Technique
Wind Release: Wind Shield
Wind Return
Yasaka Magatama
Yōkai
Yōkai: Ikiryō
Yōkai: Amenotorii
Zephyr Release Slash
Zephyr Release: Air Bullets
Zephyr Release: Air Current Wild Dance
Zephyr Release: Black Wind Senbon
Zephyr Release: Black Wind Shuriken
Zephyr Release: Gale Palm
Zephyr Release: Great Spiralling Ring
Zephyr Release: Imperial Dance of the Dragon
Zephyr Release: Rasengan
Zephyr Release: Spiralling Ring
Zephyr Release: Susanoo Shinatobe
Zephyr Release: Tsukumo
Zephyr Release: Vacuum Blade
Zephyr Release: Vacuum Great Sphere
Zephyr Release: Vacuum Serial Waves
Zephyr Release: Vacuum Sphere
Zephyr Release: Vacuum Wave
Zephyr Release: Wind Cutter Technique
Zephyr Release: Yasaka Magatama
Zephyr Release: Black Cyclone Horror
Shinatsuhikō Chakra Mode
Zephyr and Blaze Release Cooperation: Imperial Dancing Flight of the Phoenix and Dragon
Tools
Antidote
Blood Increasing Pill
Chakra Bars
Chakra Blade
Cloned Sharingan
Explosive Tag
Flying Wind God Kunai
Fūma Shuriken
Gunbai
Kunai
Military Rations Pill
Poison
Scroll
Sealing Tag
Senbon
Shakujō
Shuriken
Six Paths Edible
Sword
Tempest Shuriken
Weaknessless Soaring Shortswords
Wire Strings
Chakra Coins
Star Fruits

Nozomi Uchiha was a member of the Uchiha Clan and part of one of the few groups of survivors of the Uchiha Genocide. She is also the co-leader of the Organization, Children of the Phoenix and member of the Anbu squad, Team Kamikaze. She is also Kintaro Uchiha's twin sister.
Background
Nozomi was born in Konoha along with her twin brother Kintaro Uchiha on the 11th of November about a month after the 9 tails attack. She grew up as a shy young girl and was constantly bullied because of her timid nature, at these times Kintaro always intervened. Unlike most Uchiha her affinity was Wind despite this she still learned fire release even though it was difficult for her. Along with Kintaro she also mastered the Shadow Clone Technique at the age of 7 and graduated the Academy as a Genin. When Nozomi heard Shisui had committed suicide unlike her brother she ran and hid not just because of Shisui but because she knew Kintaro was stronger than her when it came to emotions. But her emotional state will be at a tribulation as a fate awaited the clan that would change her life forever.
The afternoon of the massacre, Katsu came running back to the house in a panic stating that they have to leave immediately or they'd die. Katsu stated on his shift as an ANBU he overheard Danzō and altered the records so that if they disappear no one would likely notice, records of Uchiha that were off on missions were altered to K.I.A. He stated that there are a few families gathered waiting for them in order to escape. Katsu made sure that no trace of them would be found using his skill as an ANBU to disappear from the records. Katsu and Kokoro both grabbed their things and packed clothes for the whole family as well as a few tools. Katsu opened an old trunk which revealed a long object wrapped in cloth with a seal on it to which Katsu undid and handed to his son stating that it was an Uchiha clan sacred treasure to which only he can wield. Kintaro unwrapped it to reveal a Katana sword. Kintaro then placed a strap on it and slung it over his shoulder before the family left to the meeting place with the other families, before they left Katsu grabbed an unusually large scroll to carry on his back. After arriving to the site with the families Katsu removed a boulder to reveal a tunnel dug into the ground, there were about 100 individuals total with only 80 of them being of Uchiha blood, the others being married into the clan as step-siblings, wives or mothers. Just as most of the group were evacuated into the tunnel, Obito arrived on the scene, Itachi sat in a tree nearby and assumed Obito had the situation covered before continuing the massacre. Katsu and a few others stayed behind to try and fend off the attack Katsu threw the scroll to Kintaro and told his children and wife to leave him. Just as he said that Katsu's throat was slit and the other 30 uchiha that stayed to fight dropped like flies but not before one of them, Kintaro's Uncle, Takahiro Uchiha, collapsed the cave entrance to assure the remaining 70 people, 50 of them with Uchiha blood were able to escape.
After escaping a good distance with the other families Nozomi was crying as her mother held her close. With her emotional state in vulnerable shambles Nozomi noticed her new ability to see chakra and realized like her brother, she awakened the Sharingan. Nozomi stared at Kintaro as he opened the scroll his father gave him. It was a scroll not unlike the Scroll of Sealing. Like her brother, she too knew the name of this scroll when her father was talking about it. It was the Scroll of Gathered Secrets, she once used it to learn Fire Release in order to perform the Great Fireball Technique despite her Affinity. Her mother stated she knew an area where her sister lives that they can go to. The area was called Ryūko Village. A village located in an isolated section of the land of the sky. Kintaro and Nozomi met all their new comrades and friends in this village who became members of the Children of the Phoenix. Nozomi and her family lived with her Aunt Kana and learned the secret techniques of the Uzumaki and in the Scroll of Gathered Secrets. Upon mastery of her Sharingan and gaining a third tomoe she and her brother discovered their ability to use the rare Yōkai technique. Time would pass by a few years and things would slowly turn to normal but his life would become anything but that.
Her brother had a keen eye for anything chakra related. One specific time was at the Market where he pale skinned traveler where after bumping into each other and having a deep discussion entrusted a bag of three odd fruits before hastily returning to where she came. When he arrived home and met with Her and Sakiko in his Bedroom, Kintaro then continued to distribute the chakra fruits so each of them has one. Both her and Sakiko were skeptical at first asking what they were. Kintaro stated he didn't know but stated he thinks that they would taste good and ate it. As Nozomi and Sakiko followed suit a powerful surge along with a painful headache overcame them for a few moments. After that event they did notice a sudden increase in power and stamina but did not realize at the time the power they hold is of the Sage of Six Paths.
Upon turning 10 years old Kintaro and Nozomi wanted to learn Senjutsu like their Mother. Kokoro stated to do so they needed to have a summon and that it has to be a summon that reflects the user, since Kokoro's Kitsune summon was already passed down to Sakiko, whom also is contracted with her own father's Eagle contract, she needed to find her children the perfect summon. Kokoro took them out to a flea market that was in town to try and find any contracts that was available. Various summoning contracts were found but none caught the two's eyes. Eventually Nozomi caught eye of a scroll laid out on a shelf and stated she wanted it while Kintaro was getting his. After getting their contract scrolls they went home and performed the contract signature. What Kintaro summoned as a result was a parrot. Nozomi and Kokoro looked in confusion as such a summon was virtually unknown. Nozomi's contract ended up being Hawks. After a while they were able to get to Aokigahara Rainforest,where their summons came from. Upon arriving they met Kitsunes, Parrots, Hawks, Eagles, Bakus, and pretty much all they can think of. However the Senjutsu that they were brought to learn wasn't of the parrots or hawks. They were in fact brought there because there was a contract made by their father with the Phoenixes and Dragons. That their contracts in the case their father died were to be passed down to his children. Whoever was the first born would become the next contract with the Phoenixes while the second born would become contracted with the Dragons. Both Kintaro and Nozomi signed the contracts accordingly to fulfill their late father's wish. The Phoenixes and the Dragons offered to teach them Senjutsu to which they accepted. Upon mastery of this skill they were told by their teachers that the power of the sage was within them. Which at the time they thought it simply meant that they have achieved the titles of sage.
Obito heard of Kintaro's and Nozomi's whereabouts and statuses overtime and eventually arrived in Ryūko Village by the time Nozomi was age 13. He sat back as Pain and the Akatsuki attacked the village as per Obito's orders. Mass panic and carnage ensued. In the onslaught Nozomi was running from an explosion and tripped over a rock. Her brother started helping her up when Obito found the both of them. Kintaro stood guard and looked into Obitos eye before reading his thoughts. Kintaro was shocked about what he read in Obitos mind regarding his identity the Akatsuki, Itachi, and the eye of the moon plan. Pissed off at this point and prepared to give up his life protecting his sister without any weapons as he stood there in a defensive position, Obito rushed forward and was about to kill the both of them before their mother, Kokoro leaped in front of Obito's technique being stabbed through the chest. Kokoro stated that she will never let him touch her children. Nozomi's shock and horror overtook her as her vision flashed back to the incident when her father died. Kokoro caughed up blood and and fell to the ground before Kintaro and Nozomi rushed to her side. Kintaro desperately performed the mystical palm technique but to no avail since his mother's chest cavity was fried beyond repair. Nozomi started to cry just before her new state of mind set in, a merciless and cold hatred for her enemies set in. Kokoro held her two kids close and said her final words in their ears.
"I love you... I love you two so much... And I'm proud to have been your mother... Now please live... For me..."
— Kokoro Uzumaki
She then sheds her final tears and closes her eyes forever. Both young Uchiha cry and scream before they give off an angry hate filled vibe and their bodies emit gold and silver auras, they slowly raise their heads and glare irate at Obito showing both their newly awakened Mangekyō Sharingan. Nozomi creates a black Rasengan with her newfound powers of black wind and Kintaro matches the ratio with his newfound power of the black black flames. Before Obito could do anything he is mortally wounded in a split second by both Nozomi and Kintaro who are both screaming loudly in sadness and hatred.
"I... I AM GOING TO FUCKING KILL YOU!!! NOW DIE AND BURN IN HELL YOU MISERABLE BASTARD!!!"
— Kintaro and Nozomi Uchiha in Unison
Obito seemingly dies with a hole in his abdomen however his right eye goes blind and his body fades away like an illusion escaping the scene using Izanagi. The other Akatsuki members flee with him. This event triggered their goal to Exterminate the Akatsuki and kill Obito for good. This is the day the Children of the Phoenix were born. Nozomi was no longer the shy person she was. Now she was confident, proud, and determined.
On an operation the Children of the Phoenix were on regarding exploring and mapping the surrounding jungle, Kintaro and Nozomi heard faint cries from the tree line. Kintaro and Nozomi went to check it out. Upon closing in on the area a fiery colored phoenix and a blue dragon popped out and flew right by the two before hiding behind a rock. Kintaro slowly approached the rock and found a young girl with fiery red hair along with red eyes was crying with a boy that has blonde hair, light blue eyes, and was also crying, Kintaro talked with them and found out both are experiments by the Ōtsutsuki clan and were two of 5 tailed beasts created with chakra from an alien world, the reason they could shift into human form was because they were created to better interact with humanoid beings than the previous tailed beasts. The Otsutsuki are after them since they escaped the lab. However, Kintaro and Nozomi made an offer, to become their Jinchūriki, Kintaro explained the idea and how it worked, the two were extremely reluctant but after hearing some of the details they agreed and the phoenix Suzaku was sealed inside Kintaro while the dragon Seiryū was sealed inside Nozomi. this started their lives as Jinchūriki.
Nozomi by the time of the Fourth Shinobi World War, mastered her Mangekyō abilities along with her brother and confronted Obito once again in the mountain's graveyard. They failed to kill him then as Black Zetsu posed a challenge. They only managed to break free by transforming into their Tailed Beast Chakra Modes. As Zetsu was about to absorb their power, The two Uchiha managed to unlock their latent power merging their tailed beast skills with their senjutsu and Six Paths Chakra. Nine Truth-Seeking Balls appear behind their backs as their Six Paths Sage Modes are awakened. Zetsu, caught off guard at the sudden change lost grip on the two before advising Obito to get to the battlefield. Obito disappeared to the battlefield shortly thereafter. Later on during the final battle both Nozomi and Kintaro confronted a Revived Madara and Kintaro manage to deal some serious damage to his internal organs due to his speed. However this also caught Madara was caught off guard since Kintaro's chakra signature and appearance resembled Izuna's. When asked about this Kintaro confirms his relation to him and mockingly refers to Madara as Uncle Madara-Sama before he and his sister activated their Six Paths Sage Mode. This made Madara rather pissed and he decided to attack the young Uchiha. During the short lived heated fight his Gunbai Uchiwa was stolen by Nozomi before they Warped away in response to Hashirama arriving on the scene. However Madara attempted to gouge out Kintaro's eyes last moment with a kunai giving Kintaro a scar over his left eye. Nozomi kept the Gunbai as her personal weapon. They are among the few not captured in the Infinite Tsukuyomi due to having interdimensional abilities.
After The War, Nozomi along with the organization continued to be stationed in Ryūko Village however they eventually returned to the Hidden leaf where she resides today as a Jonin level Anbu.
Around the time of the Blank Period, Kintaro found himself, his whole Organization, and part of the Ōtsutsuki Clan's Dharma Resistance up against Momoshiki and Kinshiki Ōtsutsuki. This included Nozomi Herself. The Resistance took heavy losses and Nozomi was left almost near death, leaving her unconscious before waking up in a hospital with her brother. Thankfully because of her brother's tailed beast's special abilities he regenerated the lost tissue and survived albeit barely. Nozomi only cried with joy knowing her brother was going to be ok.
Personality
Nozomi is very secretive and shy but has a fiery personality often hiding he shyness with a hostile and cold attitude. Despite her Tsundere-type personality she is possibly the most dangerous and powerful wind release user on the planet. It is because of her secretive nature that not much aside from her abilities was known about her. Eventually she got over her shyness. Nozomi's personality is kind bright and openly warm when given the chance. She is also seemingly more responsible than Kintaro based on the fact she's lectured him quite a few times. When someone upsets her though she doesn't hesitate to go all out on her opponent. She also tends to have a soft spot for animals yet she is usually embarrassed or shy about it.
Appearance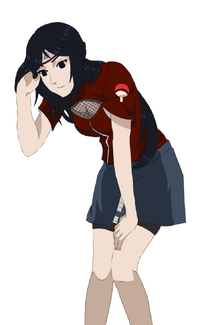 She is strikingly similar to Kintaro in appearance yet only differences are gender, build, and abilities. She has deep black eyes, fair skin, and black hair with a blue tint to it tied up in a high ponytail. Her build is feminine and seemingly delicate, but she is indeed far from delicate. She is in fact almost if not as strong as her brother Kintaro. She is described as beautiful and attractive by men her age but at the same time she's considered someone not to fuck around with describing her as just as dangerous as she is beautiful.
During the blank period she wore a red shirt with fish net underneath. She also tied her hair back and wore a navy blue apron skirt with shorts underneath. She wore a pair of black shinobi sandals. On the sleeves and back of her shirt she donned the famed Uchiha crest. At times she would wear black gloves like Sakura's. She would also carry her Gunbai more frequently during this time frame.
Abilities
Chakra and Physical Prowess
Half Uzumaki Lineage
Six Paths Chakra
Jinchūriki Transformations
Ninjutsu
Shadow Clone Technique
Rasengan
Chidori
Space–Time Ninjutsu
Fūinjutsu
Bukijutsu
Sensory Abilities
Chakra Control
Nature Transformation
Genjutsu
Senjutsu
Six Paths Sage Mode
Dōjutsu
Sharingan
Mangekyō Sharingan
Trivia
Nozomi translates to Hope, this is a play on her role to Kintaro since she gives him hope. Kintaro even stated he'd be lost to hatred forever if he lost her.
Nozomi Uchiha is one of the main characters in ArtistOfTheDalek's fanfic series, Children of the Phoenix.
Nozomi Databook

Nozomi's favorite food is Fried Udon and her least favorite is anything bitter.
Nozomi's favorite drinks are Milk Tea and Pineapple Soda and her least favorite is Tomato Juice.
Nozomi's Hobbies are Sparring and Reading.
Nozomi's signature fighting styles involve use of Wind and Storm Release techniques and art of war tactics. She also uses a Fight Fire with Water attitude in battle. When up against a Wind Release user she uses Fire Release, when up against a Fire Release user she uses Water Release, and Etc.
The reasoning behind her blood ties to Karin and Naruto is that her grandparents had multiple affairs. Her Mother and Aunt, Kokoro and Kana being children of her grandmother and grandfather while Kushina had a different Father and Karin's Mother being born from a different Mother.
Along with Kintaro, Nozomi did not reveal herself to the hidden leaf until a couple months after the Fourth Shinobi War with very few in the village Aknowleging her Uchiha lineage hence why most in the village refer to Sasuke as still the last Uchiha.
Community content is available under
CC-BY-SA
unless otherwise noted.